Skip to Content
Hillview Family Dental Offers Preventative Oral Care for All Smiles
Preventative oral care is the art of taking care of your teeth by caring for them to avoid cavities, gum disease, wearing of enamel, and more. Our professionally trained team will help you find ways to take care of your teeth once you leave your regularly scheduled visits at Hillview Family Dental.
These routines are especially important for our younger patients. Building these types of habits will build them up for success into their adult years after they lose their baby teeth and gain their lifelong set. We assist by using sealants and topical fluoride treatments to help prevent decay that can alter their incoming adult teeth.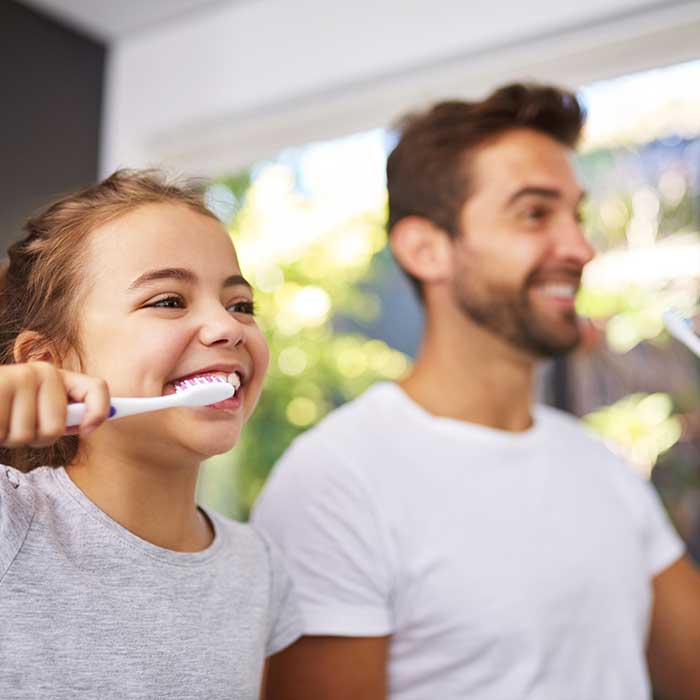 Preventative Oral Care Practices for Edmonton Residents
We are well versed in preventative oral care at Hillview Family Dental, and we can't wait to share tips and tricks for you and your family to use at home in between your visits to our office. Once we get through your initial consultation, we will help develop a personalized care plan and ensure your brilliant smile.
Here are some practices for preventative oral care:
Drink more water
Eat crunchy fruits and vegetables
Limit sugary and acidic foods
Use mouthwash
Floss
Brush your teeth
Use a fluoride toothpaste
Brush properly
See us at Hillview Family Dental twice a year
Preventive Care Is Key to Long-Term Teeth Health
Having healthy teeth is a lifelong commitment of dedicated care. Even if you are properly taking care of your teeth at home, it is imperative that you still visit us twice a year for preventative measures. Once you leave our offices, you will get equipped with the proper tools for preventative maintenance.
Relaxed, Family Friendly, and Caring Atmosphere
Dr. Preety Bachan and Dr. Randhir Dhaliwal have curated a caring environment that fills all of our patients with ease when they need to see us for oral care. We are open seven days a week for your family's convenience for scheduling. This combined with our unwavering commitment to your results in an experience that's unlike any other in the dentistry field. You and your family will immediately feel at ease walking into our office. Contact us today to get your appointment set up. We are regularly accepting new patients.
Your Neighbourhood Dentist